Spar 58%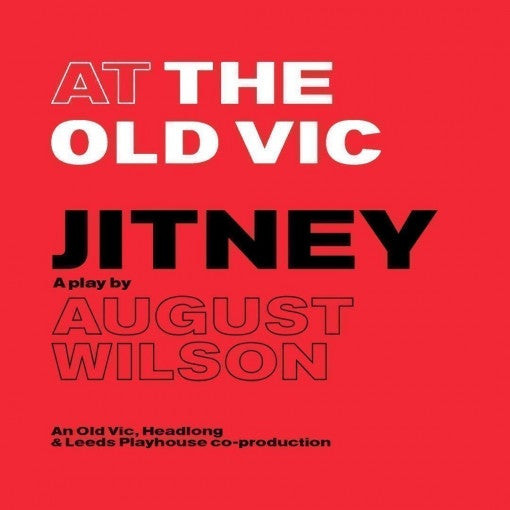 Jitney
5/5
baseret på 1 anmeldelse
(Anmeldelser)
Bestilling til: lørdag 9 juli 2022
Spilletid: 2 hours 45 minutes (incl. interval)
Beskrivelse af Jitney
'It don't always turn out like you think it is. You don't always have the kind of life that you dream about. You know what I mean?'

Jim Becker and his unlicensed drivers take the people of Pittsburgh Hill District where regular taxi cabs won't – healing old wounds and tearing new ones as they pass the time in a condemned taxi rank between pick-ups.

Directed by Tinuke Craig (The Color Purple) and following an acclaimed run at Leeds Playhouse, August Wilson's (Ma Rainey's Black Bottom) groundbreaking modern classic explores the fragile bond between eight men as they live, love and work in a racially segregated, post-Vietnam America. Cast includes: Geoff Aymer, Leanne Henlon, Wil Johnson, Leemore Marrett Jr and Tony Marshall.

An Old Vic, Headlong & Leeds Playhouse co-production 

  Important COVID-19 information

Mask
Unless eating or drinking, all guests are required to wear a mask at all times while inside this venue.

Covid safety
This venue has additional Covid-19 safety measures in place to ensure the health and well-being of the staff, performers, and guests.
Adresse til Old Vic Theatre
103 The Cut, London, SE1 8NB GB (Mere info)
Ruteanvisning
Aldersbegrænsning
Recommended for ages 12+
Vigtig information
Recommended for ages 12+
This production includes violence, gun violence and racist language.
Audio described performance: Fri 01 Jul, 7.30pm (Touch Tour time 5.30pm)
Captioned performance: Mon 27 Jun, 7.30pm
Spilletidspunkter
Billige billetter til Jitney
Intet bestillingsgebyr
Billetter fra 0,00DKK
Valid for selected performances
Spar 50%
Før 258,99DKK Nu 129,49DKK
Valid from 18 Jun to 9 Jul. Book by 11 Jul.
Spar 31%
Før 345,49DKK Nu 237,49DKK
SAVE UP TO £45.50 ON BEST AVAILABLE TICKETS Valid for all performances. Book by 9 July 2022.